Every Quarterback Needs A Great Coach
Terry Copacia is the director and founder of the All-State Quarterback School. For over 35 years he has been coaching, teaching and mentoring talented young athletes helping them to realize their full potential.
Coach Copacia's dedication to High School football and the many student-athletes whose lives he has touched is being recognized this year (2020) by the Michigan High School Football Coaches Hall of Fame inducting as one of it's newest members.
His extensive coaching history includes positions as Offensive Coordinator for Utica (Michigan) Eisenhower High School, then as the Head Coach of Utica Ford High School (95-97) and former Offensive Coordinator at Cranbrook-Kingswood High School in Bloomfield, Michigan. A former high school and collegiate quarterback, Coach Copacia's lifetime of football experiences have helped him design and develop training techniques, skill improvement drills and positive motivational thought processes that provide immediate benefits to the athlete and that have been the core components in his success.
Coach Copacia has trained more than 14,000 athletes from over 4,500 high schools. He has been instrumental in developing a long list of successful quarterbacks playing at every competitive level including high school, college, and current or former starting quarterback in the NFL. Over 1000 QBs have worked with Coach Copacia individually, one on one of his in-demand private quarterback tutoring.
During the last 28 years of his high school coaching career, quarterbacks playing on his teams combined to throw for almost 54,000 yards and 467 touchdowns. He has coached 17 All-County quarterbacks with 7 earning 1st Team All-State honors in Michigan. His teams have qualified for the state playoffs 20 times (with a string of 10 consecutive years), including six semi-final and four state championship appearances ('99, '00, '01, '03).
Coach Copacia is a sought-after guest speaker at many national coaching clinics including;
Glazier Clinic / Detroit – Cleveland – Grand Rapids
Nike Clinic / Denver – Mt. Pleasant
Michigan High School Football Coaches Clinic / Battle Creek MI

During his long and successful career, he has employed a single thought process for success. On the practice field, in the game, in school, and in life – in every situation and at every opportunity we must PROVE IT over and over and over again.
Taylor Copacia has been coaching quarterbacks alongside his father Terry for 11 years.  Coach Taylor played quarterback under his father, Terry, at Eisenhower High School. He then went on to play quarterback at the collegiate level at Grand Valley State University and ended his playing career at Adrian College.
After college, Taylor began working as a coach at all ASQBS camps and training sessions.  He has worked with quarterbacks of all ages in private and group settings.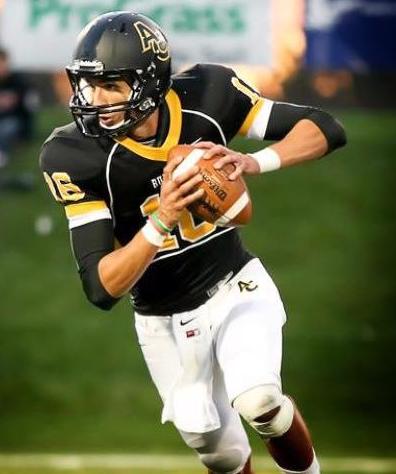 These NFL Quaterbacks Explain How Coach Copacia Improved Their Game​
Video Clips From Our Group Training
A Message For You From Coach Terry Copacia